Road Runner Golf Cart Fleet
Our golf cart fleet counts with some of the best carts on the island. We keep our carts in shape by maintaining a steady service schedule for each cart. We take preventative measures when doing repairs and servicing by replacing parts that are about to fail with genuine OEM Club Car parts.
To provide the best in class and comfort, we have equipped our golf carts with necessary accessories to make your ride as comfortable as possible. Our carts are equipped with the following.
---
Extended roof providing protection from the sun to all passengers.
Wrap-around Deluxe safety rear seat to keep the rear passenger safe and confined within the cart.
Windshield to block the rain and provide a more clear vision of the road.
Front Bumper (crash bar) provides a protection to the golf cart and it's passengers from accidents.
Comfortable Mud Grip tires for a faster and smooth ride on our dirt roads.
Mud Guards perfect for Belize's rainy season.
Other essentials include Rear View Mirror, Horn, Headlights and Tail Lights.
4 Seater Golf Carts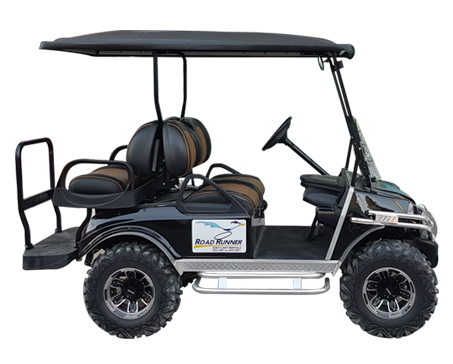 6 Seater Golf Carts